March into 2022 with renewed 'kidney kindness'
It's national kidney month and as a global solution provider for renal care, Nipro is passionate about kidney health and awareness. So we invite you to join us as we unpack a lot of important information in this article:
The incredible significance of these two fist-sized organs
How kidney failure is detected
What role Nipro plays in treatment
Ways to protect (and be kind) to your kidneys on a daily basis


WHAT FUNCTIONS DO YOUR KIDNEYS SERVE AND WHY ARE THEY SO IMPORTANT?

Your kidneys are two organs situated at the back of your body – just below your rib cage, on either side of your spine. They are commonly known for cleaning your blood and expelling waste products via urine,

but they do SO much more.



In addition to filtering excess water and waste products, the kidneys are actually responsible for multiple internal processes:
Regulating the concentration of electrolytes (e.g. salt, calcium, magnesium, etc.)
Managing the acidity of your body (the balance of acids and bases), commonly known as "pH"
Producing hormones for regulating blood pressure and producing red blood cells

Kidneys play SUCH an important role, but unfortunately

kidney disease is estimated to affect more than 1 in 7 American adults

.1

WHAT EXACTLY IS KIDNEY (OR RENAL) FAILURE?

Kidneys are critical for maintaining good health, however, they may become damaged or diseased, resulting in acute or chronic illness. We wish to spotlight the chronic form of the disease, as its toll on one's body and lifestyle is particularly significant.



Chronic Kidney Disease (CKD)

is a condition in which the kidneys are irreversibly damaged and cannot remove wastes and toxins as well as they should. This results in the retention of excess waste and fluid in the body, which overloads the body and may cause (or exacerbate) other health problems, such as heart disease.2

Particularly in the United States, "diabetes and high blood pressure are the leading causes of kidney failure, accounting for 3 out of 4 new cases."3 The onset of CKD can be rapid or gradual –

with as many as 1 in 3 Americans at risk for kidney disease, yet most go unaware

.4

HOW IS THE HEALTH OF YOUR KIDNEYS MEASURED?


A urine albumin-creatinine ratio (uACR) test measures the amount of protein (called albumin) in your urine. High albumin in the bloodstream could be an indicator of failing kidney function.
A blood test can measure your glomerular filtration rate (GFR), which tells how well your kidneys are working to remove wastes from your blood.

While there is no cure for CKD, disease progression can be managed (if detected early) and lifestyle changes may slow disease progression. For persons experiencing category 5 CKD, renal replacement therapy (e.g. transplantation, hemodialysis) is their only option.






The 5 stages of Chronic Kidney Disease (CKD)




HOW DOES NIPRO HELP PATIENTS LIVING WITH CKD?

Our renal portfolio

supports dialysis nurses and nephrologists who care for patients

requiring hemodialysis (HD), or "dialysis" for short. Whether treatment is meant for chronic patients visiting dialysis clinics a few times a week, or acute patients experiencing emergency or periodic episodes, Nipro readily

offers a comprehensive solution

package for renal care:


vascular access (AVF needles)
dialysis fluids (renal solutions)
tools to help fix complications in vascular access (AV fistulas and grafts)
and most recently...a hemodialysis machine (stay tuned for more news to come!)

Before reaching the point of needing dialysis, we wish to drive home the message of preventative care and screening.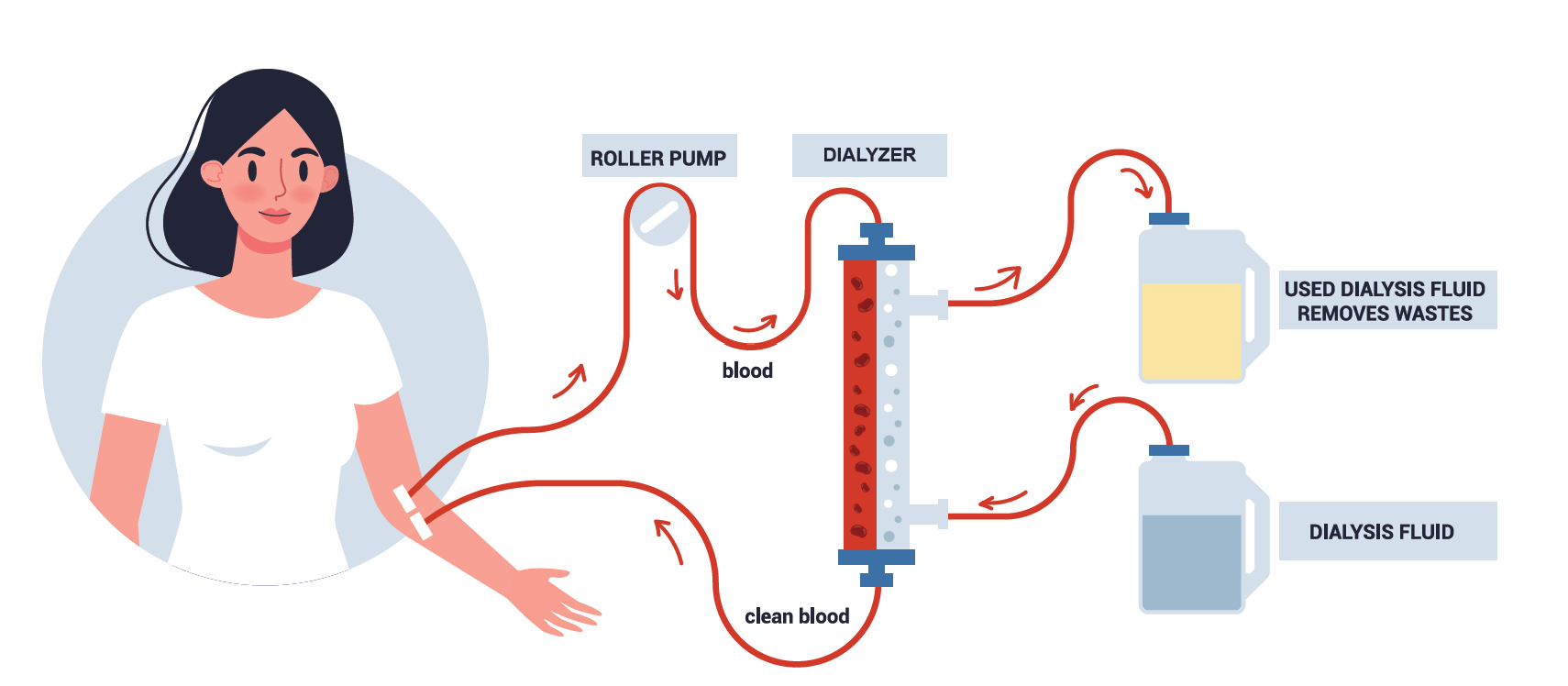 Illustration of dialysis (note: many products, including a dialysis machine, are required but not pictured)




WHAT CAN YOU DO? PREVENT! PREVENT! PREVENT!

Daily actions make a difference. Know it early, treat it early!



Know your risk factors:

3


Diabetes
High blood pressure
Heart disease
Family history of CKD
Obesity

Read this 1-page infographic: https://www.kidney.org/content/national-kidney-month

Take this short quiz: https://www.kidney.org/phi/form?version=awareness



And practice "kidney kindness"

in the day-to-day, see these 5 tips from the National Kidney Foundation5:



1.   Get tested!
2.   Reduce NSAIDs (over the counter pain medicines – Non-Steroidal Anti-Inflammatory Drugs)
3.   Cut the processed foods
4.   Exercise regularly
5.   Control blood pressure and diabetes



Footnotes:
1.https://www.kidney.org/news/newsroom/fsindex
2.https://www.niddk.nih.gov/health-information/kidney-disease/heart-disease
3.https://www.cdc.gov/kidneydisease/basics.html
4.https://www.kidney.org/phi/form?version=awareness
5.https://www.kidney.org/news/take-five-for-your-kidneys